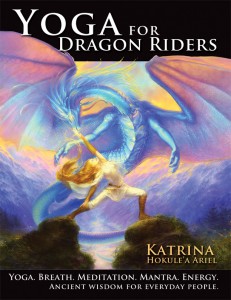 Welcome to the Dragon Riders Series of yoga practices!
Thank you for choosing to invest in this course. You're in for a treat. 🙂
The 15 practice videos of this series are based on the asana sequences in the book Yoga for Dragon Riders. Though the book is not required for this series, you'll get more out of it if you can refer to the book and the various supporting practices it offers (click the book image to the right for a link to purchase it).
These videos are from my local classes, so you'll get to see lots of different modifications and variations as my amazing students show up and work with whatever their bodies need each day. Each video is approximately 75 minutes.
You'll find the PDF versions of the asana sequences from the book below the videos they most closely correspond to (generally the "Align and Flow" classes). Modify as necessary, and if you're looking for more advanced variations of poses, the PDFs can help!
You'll also find suggested meditations accompanying the different practices. These are optional but I have included them as an invitation to deepen your practice. Please note that if you have the second edition of Yoga for Dragon Riders, you may find the page numbers listed to be one page off. Just flip the page and you'll find what you're looking for.
You may also consider having a Dragon Rider's Journal (or yoga diary) to write down insights as they come up.
All of the "Deep Healing" yoga classes are a blend of active and restorative poses, and are a more gentle approach to the practices included in the book. These classes are an excellent balance to the more challenging "Align and Flow" yoga classes. The "Deep Healing" approach is one that melts away stress, nourishes your organs, and invites you to rest in the waves of your breath.
Please listen to your own body and use your discernment to play and practice in ways that are honest and self-honoring.
I don't like rules but I do have one when it comes to my classes: Pain is not allowed. If you're in pain, your body is asking you to realign, modify or do something entirely different. There is no reason to force or strain in yoga—this goes against the whole idea of yoga which is to move into a state of harmony.
Remember, you are 100% responsible for deciding what is safe for you (and by using this site you're agreeing to do so at your own risk – I'm not there to personally keep an eye on you so it's up to you to self regulate).
Find the ways that encourage flow and vitality in your body. Let it feel good! 🙂
Here are the class descriptions so you have an idea of what to expect . . .
Deep Healing Yoga: This class is designed for deep healing and de-stressing. It is very gentle, pulsing between short periods of strong poses and long relaxing supported poses. This is an excellent way to soothe anxiety and bring the body into a state of self healing. Stretch, strengthen, and bliss out! I also often incorporate meditation and visualization into the class.
Props Needed for Deep Healing classes: two blocks, one or two bolsters (or firm pillows), one or more blankets.
Align and Flow Yoga: These challenging and fully satisfying classes are uplifting and focus on using precise alignment to access more freedom in your body, mind, and heart. They are fun, therapeutic, challenging, nurturing, and serve to guide your practice into a creative expression of YOU! Make beauty, go big, dive deep.
Props Needed for Align and Flow classes: one blanket, blocks if your hamstrings are tight.
Are you ready to ride your Dragon?
Well, roll out your mat and begin!